Calling all Alumni, make plans to join us in February!

The can food drive starts tomorrow!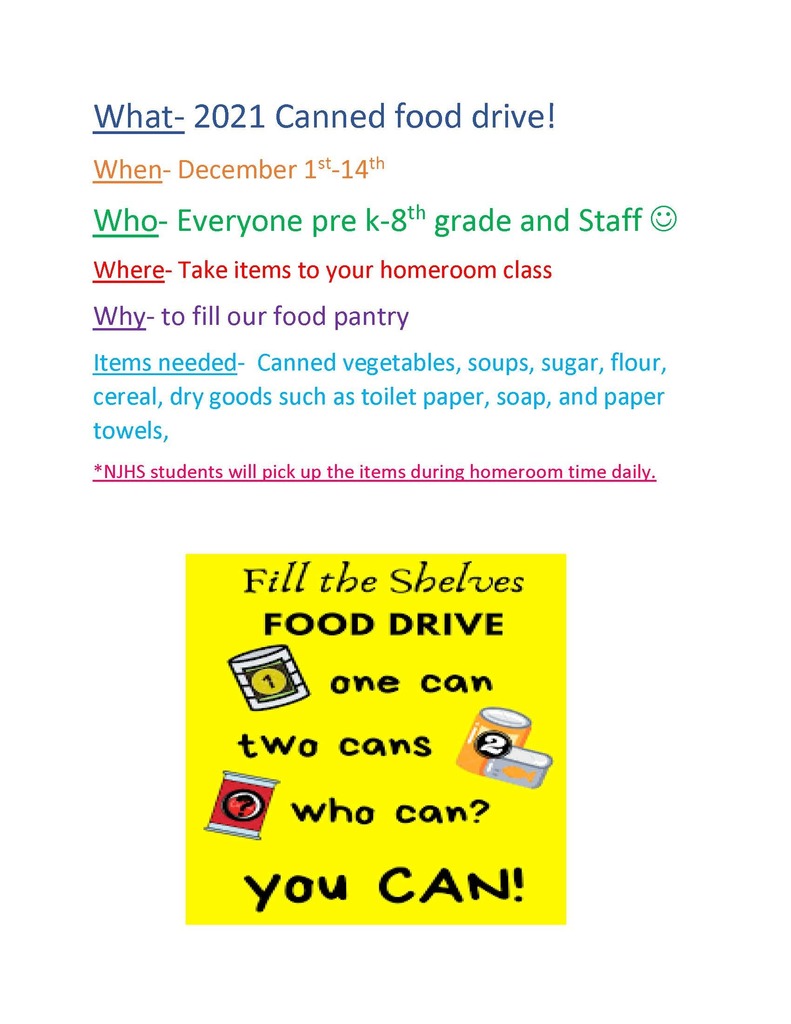 Join us for our Christmas programs!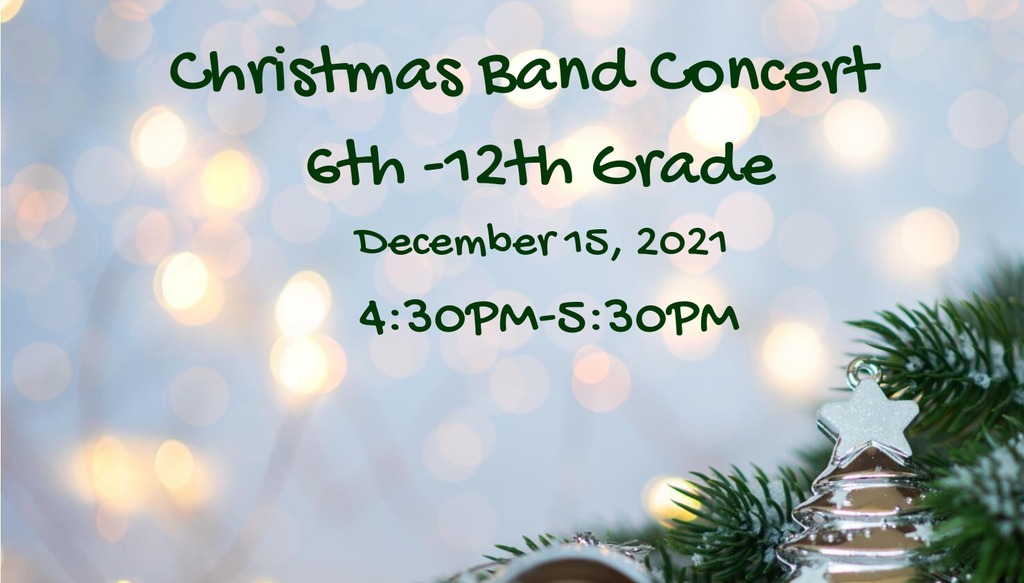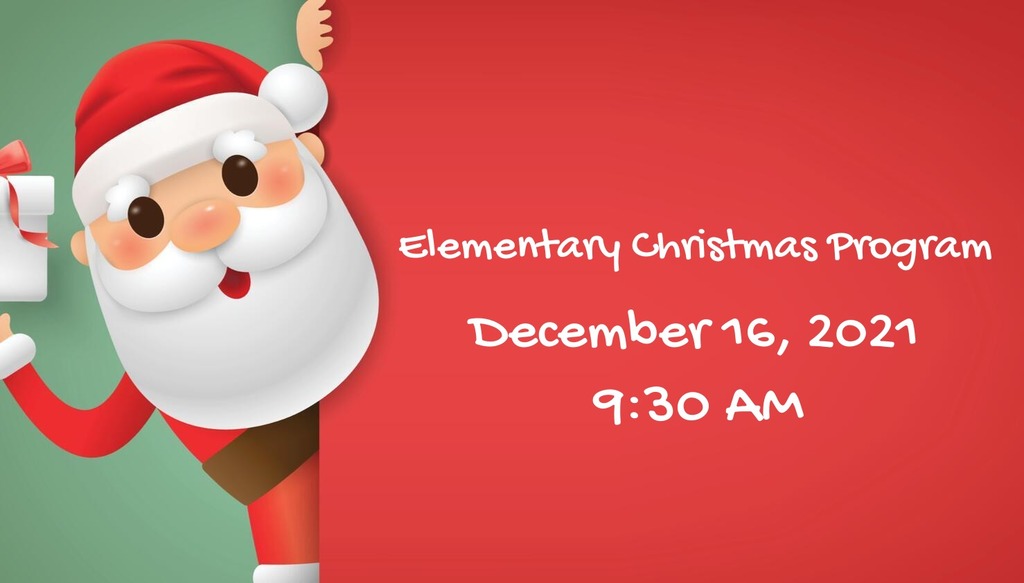 Updated Jr. High Basketball Schedule as of 11/28/2021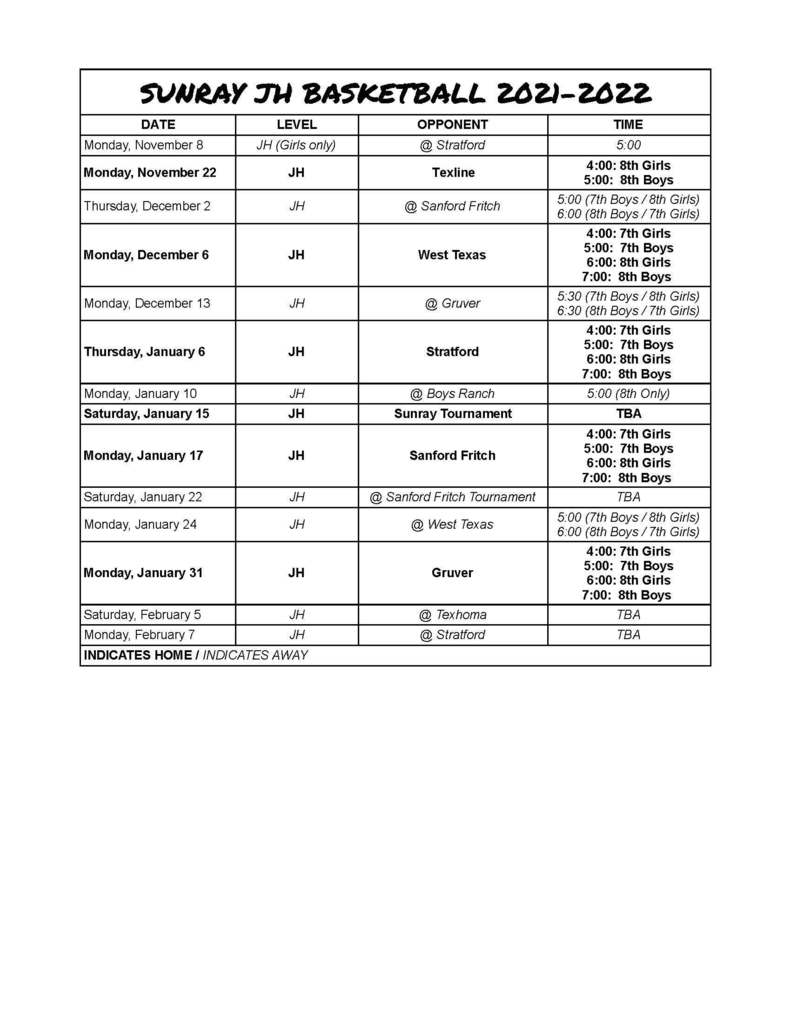 Tomorrow's jr high basketball games at Fritch have been moved to Thursday. 5:00 7th Boys / 8th Girls 6:00 8th Boys / 7th Girls

Change to JH basketball games for Monday, November 22nd: 8th grade boys play at 4:00. 8th grade girls play at 5:00.

The JH game at Fritch on November 29th has been moved to Thursday, December 2nd.

Good luck to the Quiz team as they head to Canyon for Area competition today, and the Opening & Closing ceremonies team as they compete on Saturday. Quiz: Brodie Purswell, Easton Miller, Chloe Morgan, and Joscelyn Hernandez. Opening and Closing Ceremonies: CC Arreguin, McKenzie Pineda, Carly Neeley, Madison Lodholm, Grayson Anderson, Enya Diaz, and Noah Heidenreich.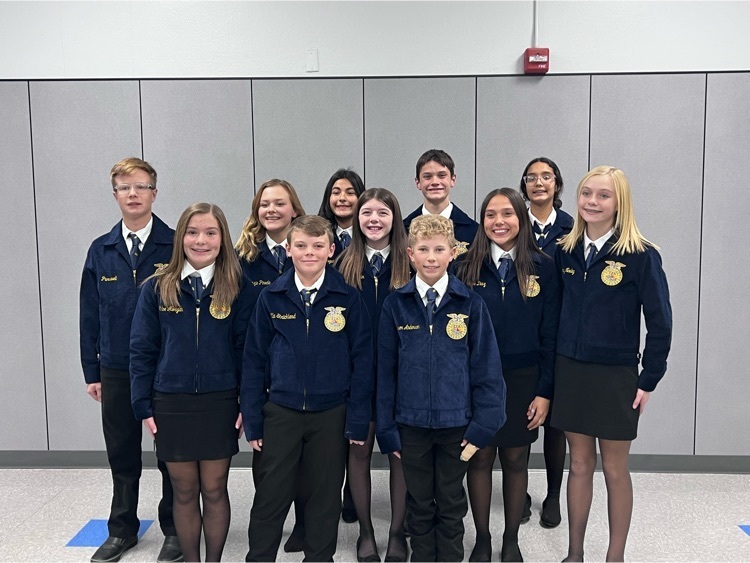 We have a herd of Turkeys in the cafeteria eating lunch today.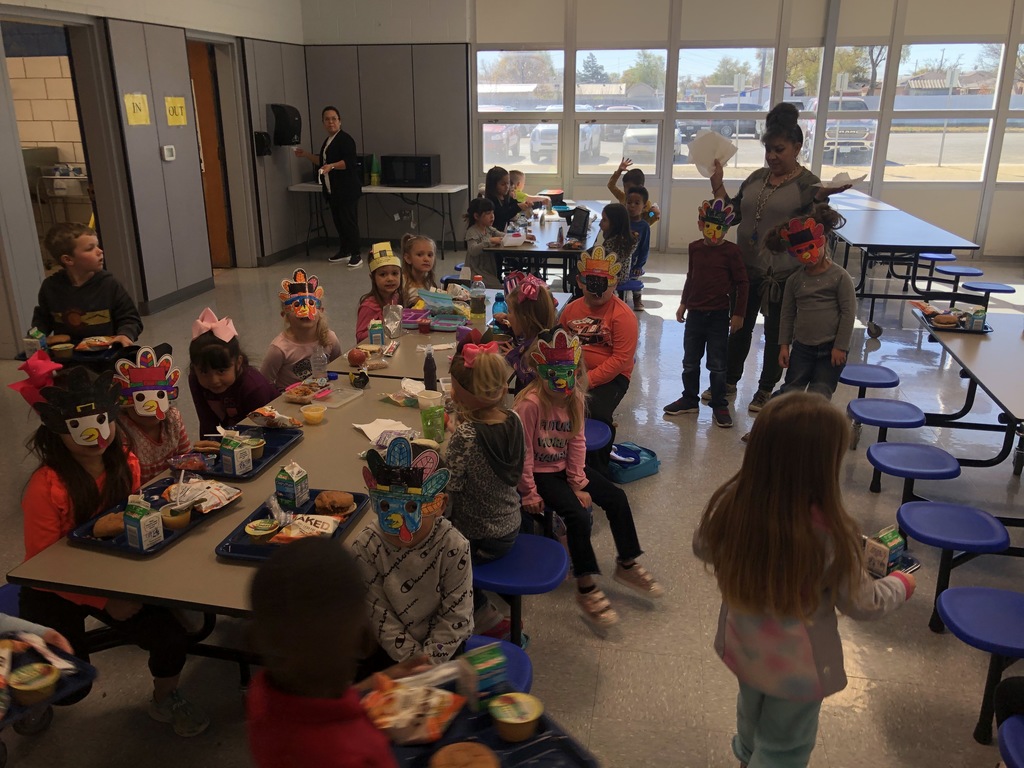 The Jr. High Basketball games scheduled for Monday, November 22nd against Texline will be 8th Grade ONLY.


Join us for our first ever Sunray Showdown.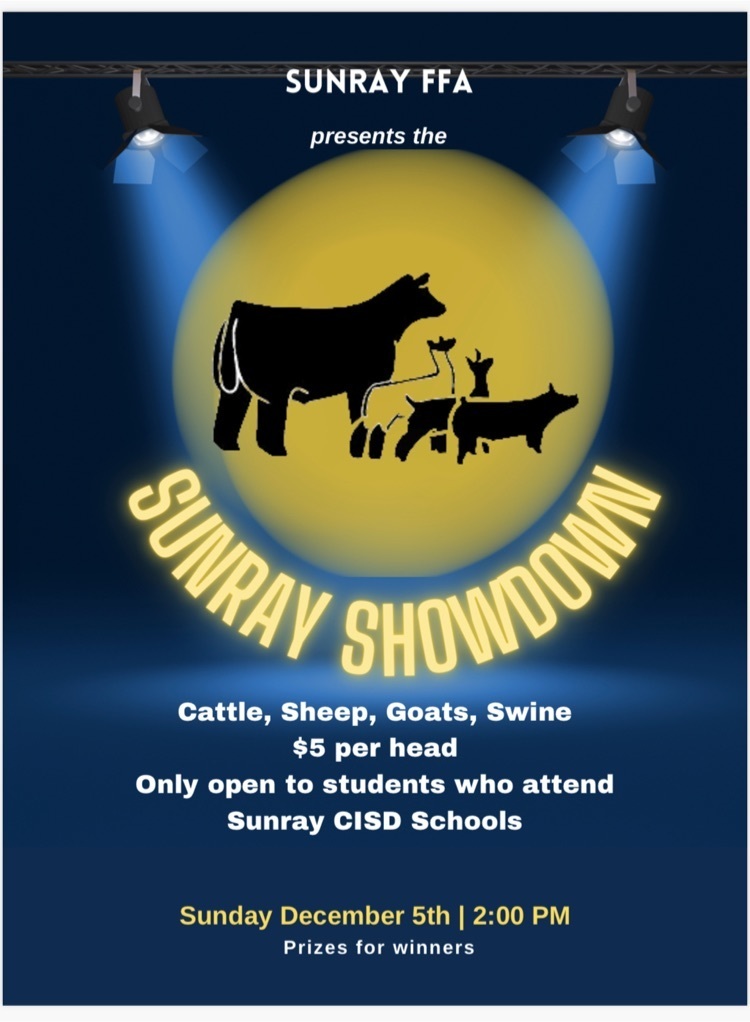 Updated JH Basketball Schedule as of 11/17/2021

Students enjoying reading in the new beanbag chairs Mrs. Ruiz was able to get with some of the scholastic dollars!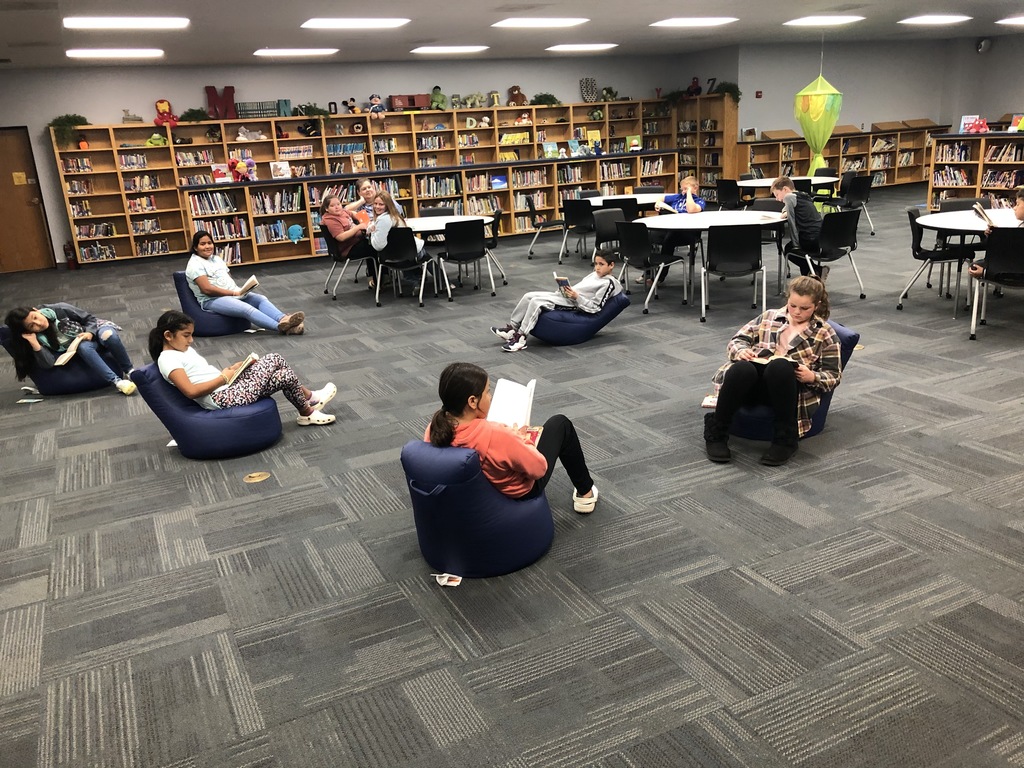 Senior Citizen Thanksgiving Meal is Thursday, November 18th at noon. If you or a senior citizen family member or friend that did not get an invitation you/they are welcome to come and if we need to add them to our invitation list please let us know.

JH Boys Basketball will practice at 8:00 tomorrow morning. HS Boys Basketball will practice from 11:30AM-1:30PM. HS players need to be there at 10:30AM to get lockers, clothes (if needed), etc.

Attention Band members: The band hall will open from 1:00pm-3:00pm on Monday for any 7th-12th graders who would like to come practice their All-Region Audition Music. (MS auditions are Nov. 30th and HS auditions are Dec. 6th.)

School has been cancelled on Monday, November 15th. The administration office will remain open as well. No early morning practices but all other athletic practices will still continue as schedule per the coaches. Next weeks schedule will be Tuesday, Wednesday, and Thursday.

Playoff Shirts are here! Come to the HS now to purchase yours. Only limited quantities available, first come first served. 💙💛🏈

Playoff T-shirts will be in tomorrow! Come by the HS office after 12:00 to reserve your sizes. Youth Medium-XL: $10 2XL-3XL: $15 Payment options: Cash or checks payable to Sunray Booster Club