We will be unlocking the tennis courts and track today at 12:00 for community use. These facilities will remain unlocked as long as the rules are followed. Please remember no more then 10 people and stay 6ft apart. If you have any other questions Mr. Harrison has released a video on Facebook with more details.


Virtual Career Spirit Week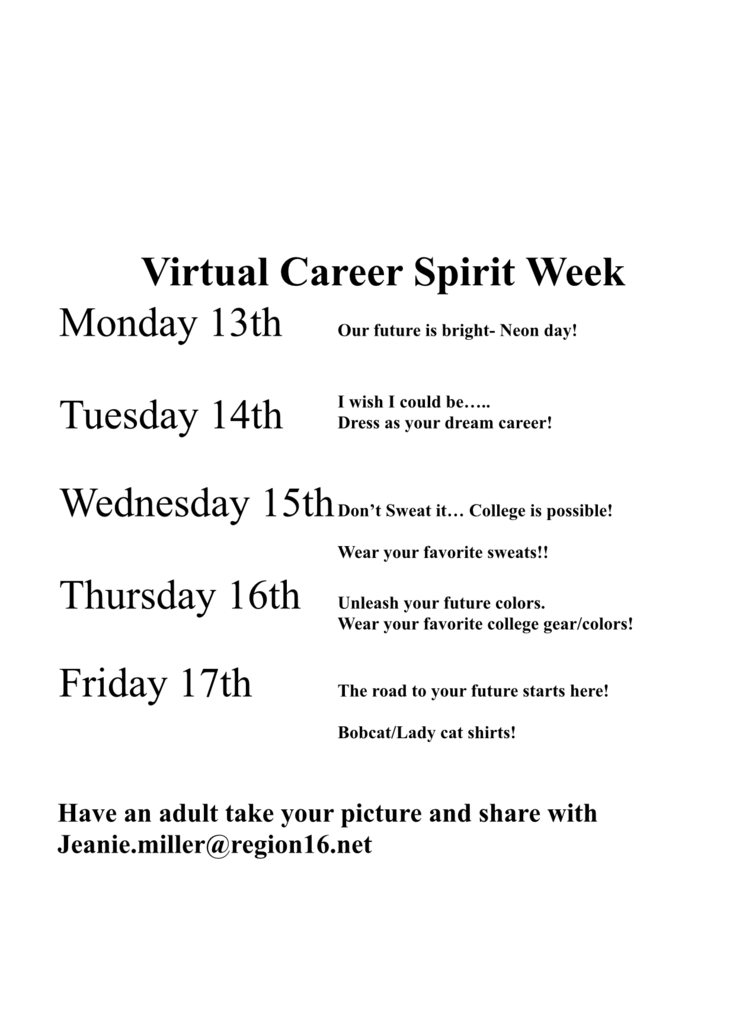 With Governor Abbot putting the shelter in place effective last night at midnight we will be postponing students belongings pickup until May at that time we will release a different schedule. Seniors needing transcripts for colleges and scholarships please email Mrs. Traylor at
mandy.traylor@region16.net
#sunrayisd #sunrayisdcovid19

We are currently in the process of making an online transfer application for 2020-2021 and will have them out by the end of the month. As soon as the form is ready we will post them to the website and let everyone know.


Mark your calendars! Prom 6/6/2020 Graduation 6/13/2020 and will be held at the football stadium at 7:00 PM

Hello to all my kiddos!!!! First off I want you to know I MISS YOU GUYS SO MUCH!!! Secondly, I have decided to throw in some of our regular menu foods you guys love!! I know you get tired of sandwiches and cereal, so I hope this makes your days a little better. I will try to stick with this menu, but please know I may not be able to at times. I hope you guys are taking care of your selves!! Remember to read, do math, get exercise and be nice to your parents J. We love you guys!!! Ms. Misti and Staff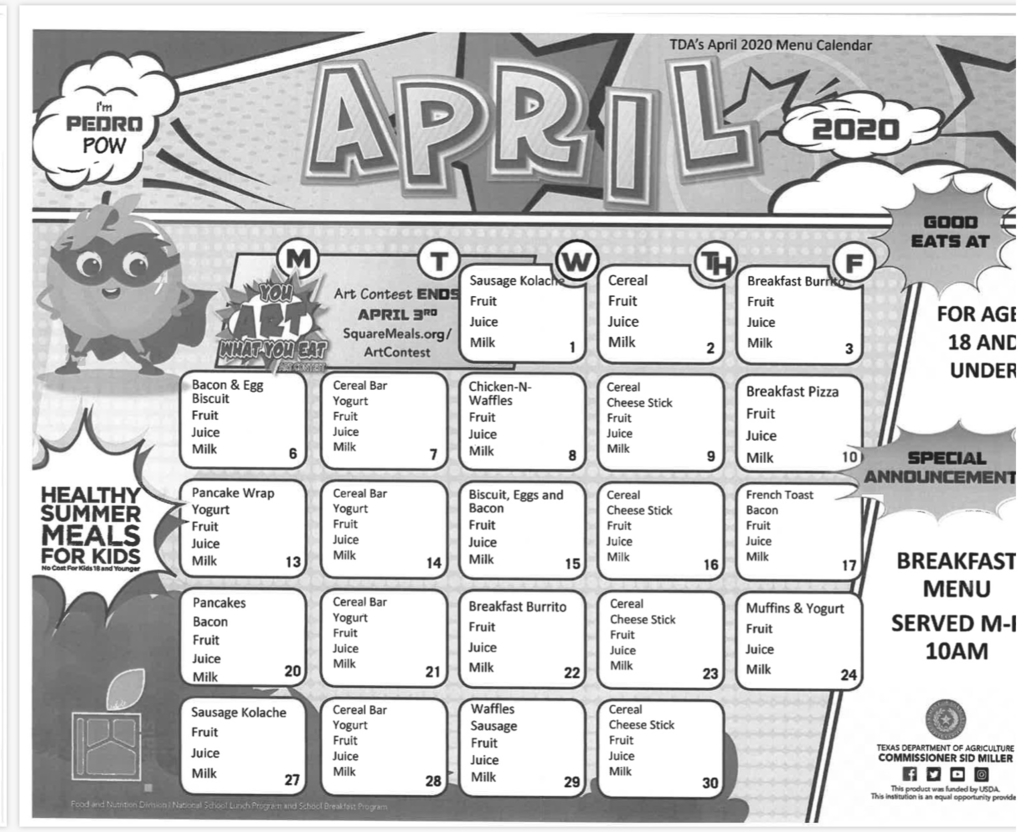 Instruction and code for joining Coach Reed's BIM/Jr High Track Remind group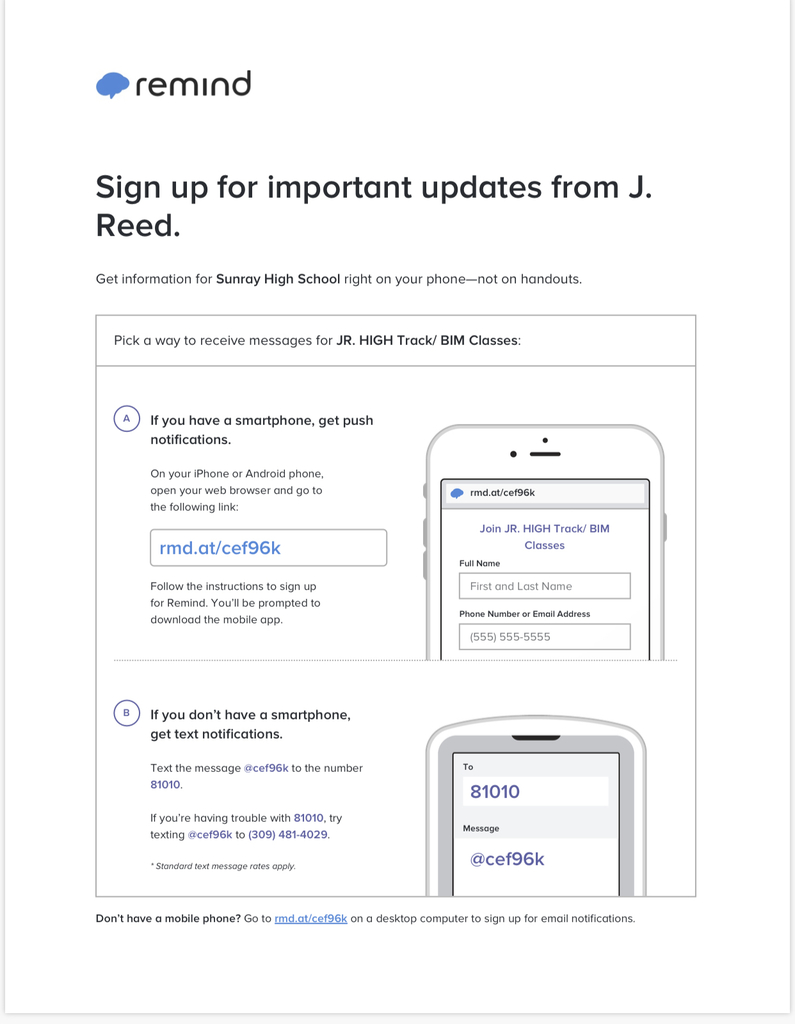 See attached schedule for student belongings pickup.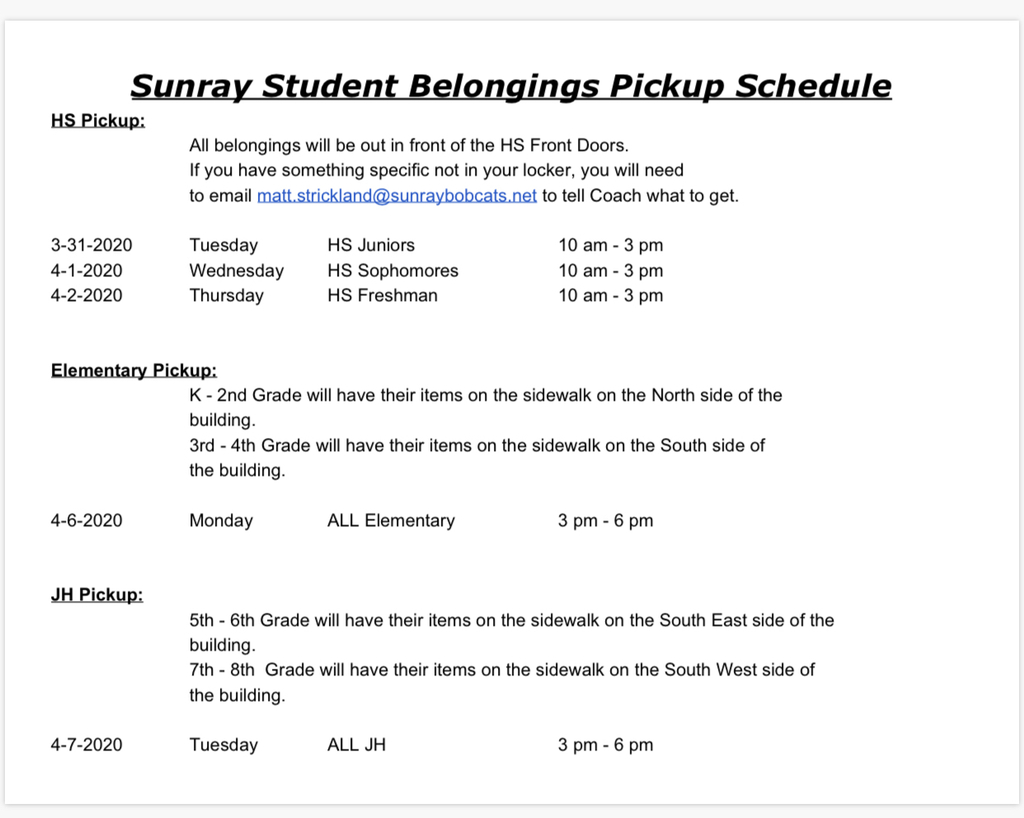 Students need to wait until Wednesday to log in to Edgenuity. They are working on technical issues with student accounts.

We would like the thank Plains internet, they have installed wireless internet at Greg Smith Memorial Park for students that do not have internet service in their homes. They will also be helping students outside of the city limits with hotspots for their homes. #sunrayisd

Do not forget our cafeteria is serving free breakfast and lunch Monday thru Friday from 10:00-10:30 for any child 18 and under. Please email Misti Loman at
misti.loman@region16.net
so she will know how many meals will be needed.

Congratulations to Aukazia Ortega and Rylee DeBord! They were the first two to submit pictures and a brief description of how they helped a senior. Both SHS Seniors have won $250 in scholarship money. Seniors there is still good news... The contest will continue. Each time you send a picture and description of yourself helping a Senior Citizen, you will earn $10 in scholarship money. You can continue to earn until you reach $200. Aukazia and Rylee, you can enter this one, too, which means you could walk away with $450 each! Students, once you have enrolled in college classes, print your schedule and take it to Sunray ISD's Central Office to request your check. The first $500 was donated by Mr. Harrison. The remaining will be funded by the Sunray ISD Scholarship Fund. Thank you Mr. Harrison and SISD School Board for supporting our Seniors and Senior Citizens! Good job to everyone who has submitted entries. Keep up the good work!

Join us tomorrow morning at 9:00 for a very informative live video on FB. We will be joined by the administration, Coach Strickland, Nurse Brandi Cadena, and Mrs. Hollaway. Please be sure to be watching.

4th grade parents please see image attached for instruction to join the teachers Remind Group they have put together to keep everyone informed. #sunrayisd #sunrayisdcovid19info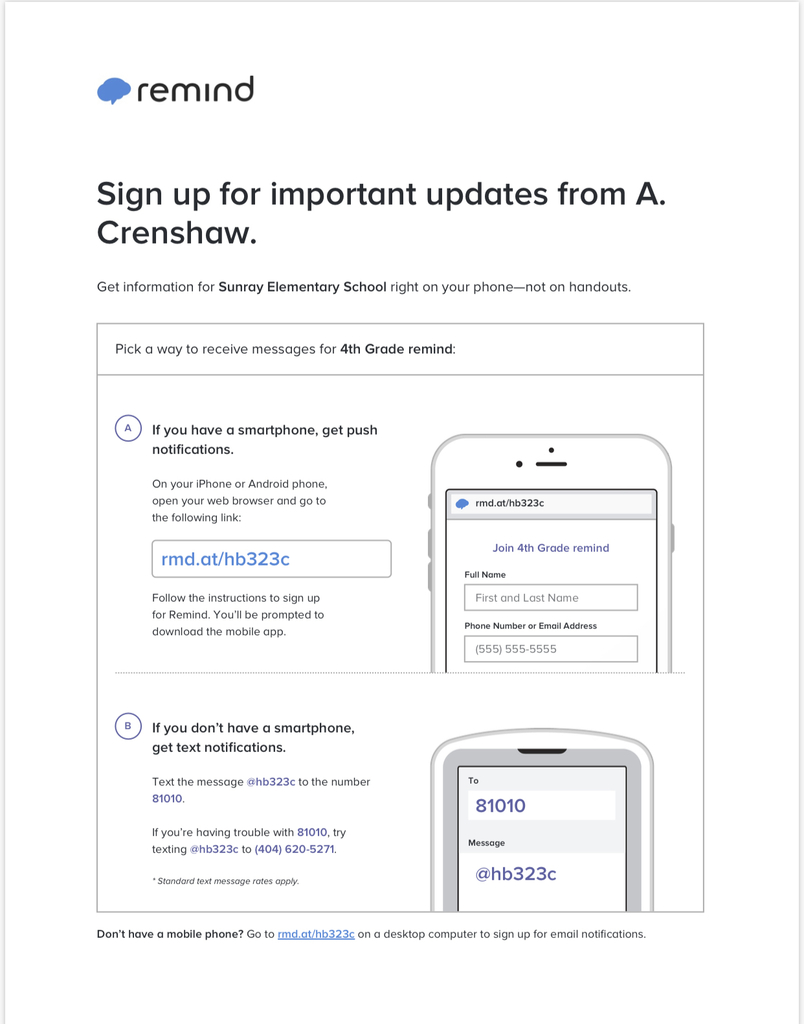 If you need a device for online use, there will be a Chromebook or Chrome Tablet checkout on Monday, March 30th at the Board Room in the Sunray ISD Administration Building for Pre-K through 5th grade students from 1:00 pm - 4:00 pm for online learning use. There is a $25 usage fee for all Chromebooks and Chrome Tablets, and a parent signature will be required. Please contact the school if you have any questions. Thanks! #sunrayisd


Click the link below to let your students see a message from their teachers! This video is for Pre K - 4th Grade
https://youtu.be/X3N0UgXumL4

Sunray ISD will be releasing the online learning platform and matters related to on Friday March 27, 2020 at 8:00 a.m. In addition the Project Based Learning Platform will be released on Monday March 30, 2020 at 8:00 a.m. These educational platforms as well as a virtual library will be the delivery method of educating Sunray ISD students during our temporary school closure as a result of COVID 19. During this challenge time, our goal is to be transparent with all stakeholders of Sunray ISD and our ultimate goal is to be able to reopen the district before the end of this academic year. We will base that decision on when to reopen, based on the current state of COVID 19 virus. We want you all to know that as a district we do not want to add to the stress each of our families are experiencing during this time. We will be here to answer any questions or concerns you may have. Also please be reminded that official communication regarding Sunray ISD COVID 19 response will be located on our mobile app, our website tab 'COVID 19', as well as our Facebook, Instagram and Twitter accounts.